"Trigger's like me," Willie said with a laugh, "Old and beat-up."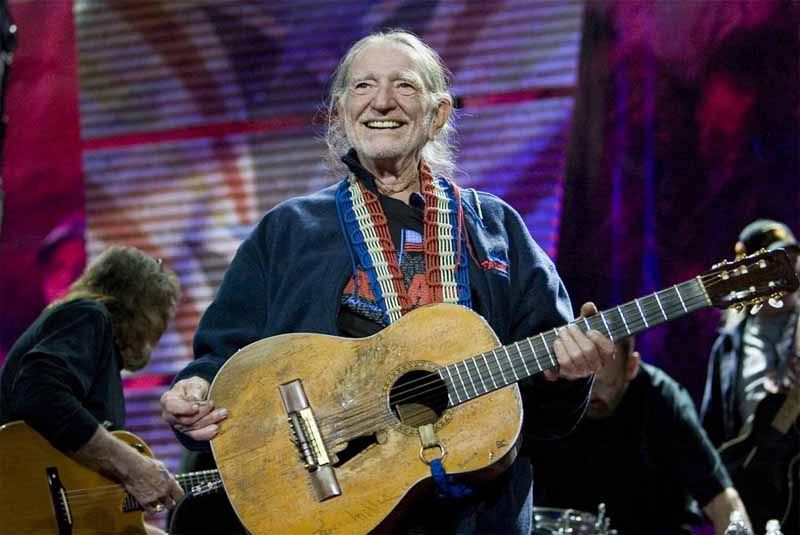 The guitar—a Martin N-20 classical, serial number 242830—was a gorgeous instrument, with a warm, sweet tone and a pretty "mellow yellow" coloring. The top was made of Sitka spruce, which came from the Pacific Northwest; the back and sides were Brazilian rosewood. The fretboard and bridge were ebony from Africa, and the neck was mahogany from the Amazon basin. The brass tuning pegs came from Germany. All of these components had been gathered in the Martin guitar factory in Nazareth, Pennsylvania, and cut, bent, and glued together, then lacquered, buffed, and polished. If the guitar had been shipped to New York or Chicago, it might have been purchased by a budding flamenco guitarist or a Segovia wannabe. Instead it was sent to a guitarist in Nashville named Shot Jackson, who repaired and sold guitars out of a shop near the Grand Ole Opry. In 1969 it was bought by a struggling country singer, a guy who had a pig farm, a failing marriage, and a crappy record deal.

Willie Nelson had a new guitar.

Forty-three years later—after some 10,000 shows, recording sessions, jam sessions, songwriting sessions, and guitar pulls, most taking place amid a haze of tobacco and reefer smoke and carried out with a particular brand of string-pounding, neck-throttling violence—the guitar looks like hell. The frets are so worn it's a wonder any tone emerges at all. The face is covered in scars, cuts, and autographs scraped into the wood. Next to the bridge is a giant maw, a gaping hole that looks like it was created by someone swinging a hammer.

Most guitars don't have names. This one, of course, does. Trigger has a voice and a personality, and he bears a striking resemblance to his owner. Willie's face is lined with age and his body is bent with experience. He's been battered by divorce, the IRS, his son Billy's suicide, and the loss of close friends like Waylon Jennings, Johnny Cash, and his longtime bass player Bee Spears. In the past decade, Willie has had carpal tunnel surgery on his left hand, torn a rotator cuff, and ruptured a bicep. The man of flesh and bone has a lot in common with the guitar of wire and wood.
Read the rest of the article here >
http://www.texasmonthly.com/story/trigger?fullpage=1
A bit of a read but well worth it. A story of one man and his guitar and the music they have made together. And continue to make. One day soon, Trigger might just collapse like a cheap suitcase. Or Willie, who has lived enough for three lifetimes, might pass away into legend. Or they might go on for another decade together at their own pace, daring the world to keep up. I wouldn't bet against it.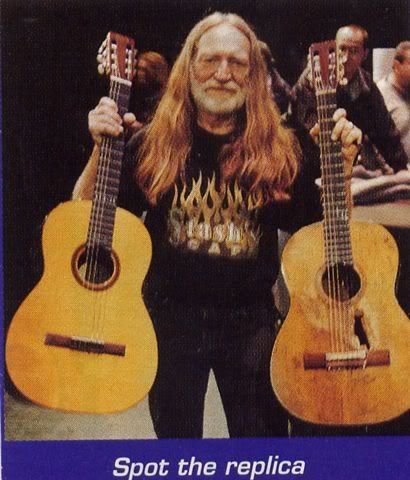 One of the N-20 replicas mentioned in the text. Do you get the feeling that the replica is looking across at Trigger and quivering in fear?